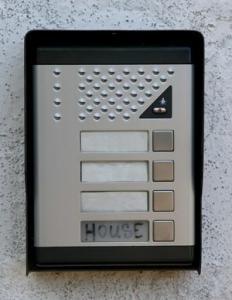 Communal Door Locks
Many opportunist burglars are targeting weak security, particularly on inner city flats.
Once they are inside the building, they are unseen from the outside and use canvassing techniques once inside to determine which flats are empty. This is a particular problem, particularly when the flat door has been locked on the Yale lock only, which brings me to my main point.
As a local locksmith I find that in about 80% of cases, the communal entrance is protected by a mere nightlatch (Yale lock as they are more commonly known). The Yale nightlatch, is precisely what the name suggests, a lock which can be 'snibbed' at night to provide extra security whilst the occupant is home. It is in my opinion, although of  reasonable quality, only really suitable for this purpose. I would highly recommend a BS3621 insurance grade deadlock to any front door, however, it would not be logical to fit a deadlock to a communal door.
As the first point of entry to the building, the communal door is the first line of defence to the protection of the properties within, and in my opinion, the most important. Keep unwanted visitors outside.
I find it frustrating to say the least, that so many Edinburgh tenement buildings are secured in this way, particularly when a decent lock can be fitted for around £300.00, using the existing intercom and in some cases, the occupants existing keys will be compatible. Split this cost between the individual properties and it is even less expensive.
A decent communal door lock is a small price to pay for peace of mind and the protection of your assets, I would say.
If you need any help or information about installing a communal door lock, please get in touch or give me a call on 07759 422 566